Last Updated on March 7, 2023 by Morah Rose
To know how long a man's shorts should be, we are going to be discussing how to choose the length of your shorts.
But although the length is important, the width of the legs or the leg opening is also very important when shopping for shorts.
So, whether you are tall or short, lean or masculine, at the end of this article you will learn how to properly wear shorts.
What are the different short lengths?
The table below shows the four main different men's short lengths:
Short length
How it fits an average man
11-inch shorts
These shorts normally hit the kneecaps or go past the knee entirely. 

They normally look good on guys with very long legs and are best for over 6ft men.
9-inch shorts
These shorts normally hit just right at the top of the kneecaps or just above the knee on most men. 

This length usually looks great on most men (it is considered a safe look). 

With the 9-inch short length, you should focus more on the overall fit and try to stay away from those with a too-wide leg opening.

These shorts are usually best for men who are between 5'9" to 6'1" tall. They are also best for men who don't want to expose too much skin.
7-inch shorts
These shorts will normally be a few inches above the knee and around the thicker part of the leg.

This length normally gives a more masculine look and is usually more comfortable.
5-inch shorts
These shorts usually hit around the mid-thigh on most men and around the thickest part of the legs.

They give most men, especially those with slim legs a more defined and bold look. However, if you have never worn a shorter (5-inch) short, it may require a bit of confidence to pull it off.

The downside of this length is that when you sit down they can end up being too short.

They are ideal for men who are under 5'10" with shorter legs.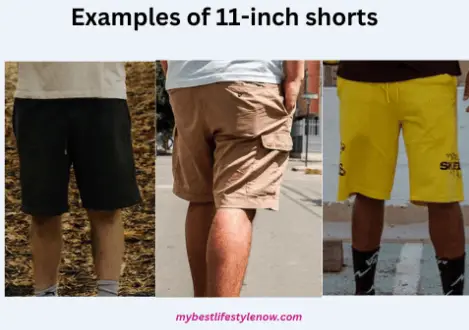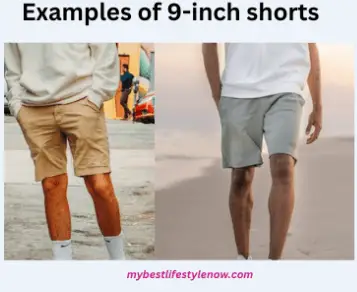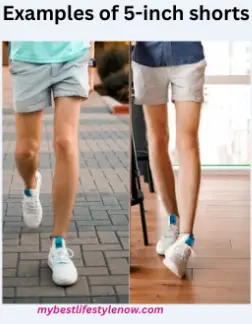 See also: Men's Swimwear Guide: How To Look Good At The Beach For Guys
So, what's the best shorts length for most guys?
Normally, the best short lengths for most men are 7-inch and 9-inch shorts. That's because they tend not to be too long or short on most men. 
However, the best shorts will also depend on personal preferences, occasion, and the type of look you want to pull off.
But, when are shorts too short for guys?
There's no one general rule when it comes to the length. However, your choice will largely depend on where you live and the occasion.
For example, are you wearing it on a vacation, on leisurely engagements or are you wearing it in an urban setting, etc?
The length of the shorts will vary depending on the occasion. You hence need to figure out what length will be appropriate for each occasion.
How the length of the short affects your overall look
The length of the shorts will greatly affect how tall and short you want to look in them.
That's because a shorter length, like a 5-inch short, will make you look taller, while a long short will make you look shorter.
This means that your height will play a role in how you want your shorts to fit and look on you.
However, you should also note that most men will look great in shorts that don't go past their knees.
Other factors that affect how you look in a short
1. Wearing the right fit
Other than the length of the shorts, the fit will also play a great role in how good you look in shorts. And to achieve this, you need to wear the right shorts for your body type.
Shorts come in different fits: classic cut or slim fit, skinny fit shorts, and so on.
If you have thin legs, wearing too-loose shorts is going to enhance them even more. This is especially if the shorts have wider leg openings and larger pockets that add more bulk to them.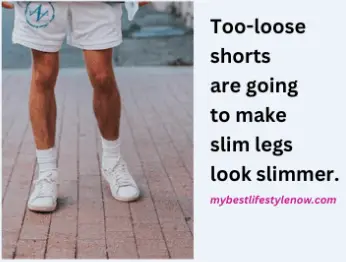 The shorts need to fit you well. They shouldn't be too big, too tight, or too baggy.
The fabric and design of the shorts also play a role in how it fits you because they will affect your body movement.
NOTE: 
Fit and the actual cut of the shorts will always vary based on the brand.

Also, if you have long shorts, you can cuff them to a length that you feel looks great on you and then have them tailored.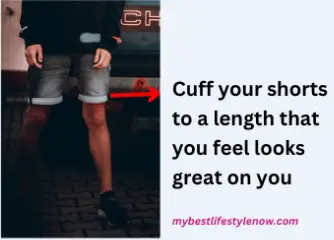 You may also like: Best Jeans/Denim For Your Body Type (Men's Guide).
2. Find the ideal length of shorts for your body type
Well, other than the fit and the length of the shorts, your body type will also play a role in how you look in shorts.
Example 1:
If you are 5'7" tall and your friend is the same height as you, this may not necessarily mean that you will both look good in the same lengths of shorts.
Why?
Because you may be having different body types in spite of having the same height. In other words, you may have a shorter torso with longer legs but he may be having longer torso with shorter legs.
Therefore, you will need to wear shorts that will not make your bodies look disproportionate.
See also:
How To Get Rid Of Love Handles (In Men).
How To Wear A Belt If You Have A Big Belly (Tips For Men).
How To Dress If You Have A Beer Gut (Men Styling Tips).
Example 2:
If you carry weight around your waist and upper thighs, slim-fit shorts will look off or too skinny. 
A good short for this body type would be moderately slim-fit short that has added stretch. 
Additionally, if you have slimmer legs but carry more weight around your thighs and waist area, wearing too long or too loose shorts will not look good on you.
When you look at yourself in the mirror, you are able to see the widest parts of your physic. This can help you decide on the best material, fit, and length for your body type.
Final word
Don't be afraid to change your style as long as you go for what makes you feel comfortable and stylish.
Additionally, dare yourself to get out of your comfort zone. You will discover great styles that will work very well with your body!