Last Updated on January 17, 2023 by Morah Rose
If you want tips for making your arms look slimmer, or want to know what the best tops are for ladies who are conscious about the weight around the arms, you will find this article quite helpful.
The article will cover in detail the best types of sleeves that flatter your arms and make them look slimmer.
However, I also recommend putting more focus on your best assets. These are the parts that you like most about your body. Ensure you draw attention to that area.
Focus on your overall body shape as well. This ensures that you are not focused on wearing tops that hide your arms but do not complement your body type/shape.
Related: How To Reduce Arm Fat Without Exercise (Women Arm Fat Facts).
How to wear sleeveless tops with fat arms
If you are looking for tops that will make the arms look slimmer, the following sleeves will help flatter your arms:
Off-the-shoulder tops or Cold shoulder tops.
These tops/dresses do a good job of hiding your arms while nicely framing your collarbones.
I'd recommend these types of tops because they highlight your shoulders while providing coverage for the arms.
These tops are also great for ladies who want to look gorgeous and comfortable with the coverage around the arms.
That's because they show a little bit of your shoulders while still covering the arms.
Therefore, they are the best tops for ladies who are comfortable with their shoulders but conscious of their arms.
¾ sleeve tops that are not tight
The ¾ sleeves do a good job of masking the arm's fat if you are more conscious about it. 
That's because the top provides your arms with full coverage around the areas that you are uncomfortable with, thus giving you confidence when wearing them.
Kimono sleeve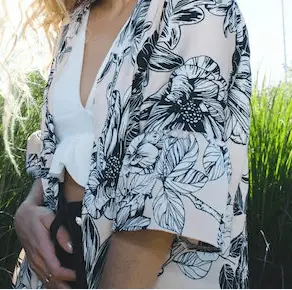 Kimono sleeves are great, especially during the summertime if you wear ones that are light and breathable.
They will look great on you especially if you are so conscious of your arms. That's because they have very nice, wide, and stylish sleeves and can be pretty flattering on anybody.
See also:
How To Dress To Minimize A Large Bust (13 Styling Tips).
How To Wear A Bikini With A Tummy.
How To Wear High-waisted Jeans With A Belly (With Pictures).
Sheer sleeves
These tops are great because they are breathable and great to wear even during the summertime.
I recommend the dark-colored sheer sleeve tops because they give your arms the slimming effect thus making them look slimmer.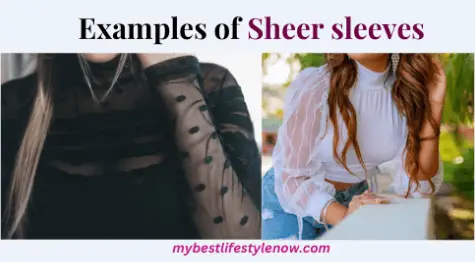 These sleeve tops also make you look chic!
Choir boy sleeve and Leg of lamb tops
These types of sleeves do a good job of covering the upper part of the arm. They are the best sleeves for ladies who are conscious about the upper part of their arms.
However, the leg of lamb tops may not be the best for you if you have an inverted triangle body shape — if your upper body is bigger (broader shoulders) than the lower top (hip area).
The Dorman sleeves
These ones are great, especially for ladies who are more conscious about their under and upper arm areas.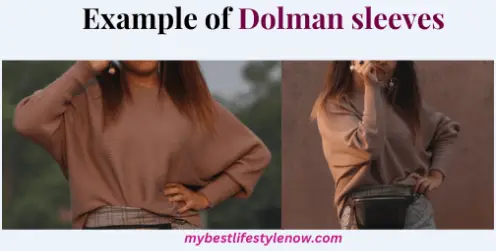 Bishop sleeve The balloon sleeve tops
These tops and dresses can be so flattering on your arms, especially if you pick those that complement your overall body shape.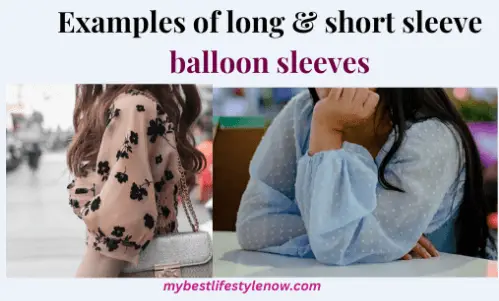 They are great for ladies who are not comfortable showing off their upper arms.
Bell and fluted sleeves
These are great sleeves that complement your overall look because they take the attention away from your upper arms to the lower part of the arm.
Flutter sleeves make your arm look slimmer as they tend to have more fabric around the arm area.
See also:
How To Hide Belly Fat In A Tight Dress (With Pictures).
How To Make Your Belly Look Flat In A Crop Top (With Pictures).
Best Hairstyles For Your Face Shape (Beauty Tips With Pictures).
Other tips for making your arms look slimmer
If you decide to go sleeveless, then I recommend tops that have:
Thicker straps. Avoid spaghetti tops.
That's because thicker straps give an illusion of slimmer arms. Spaghetti tops on the other hand make the arms look bigger.
Wear tops that have an interesting neckline as they tend to draw attention around that area and not on the arms. 
The most comfortable sleeves for women who feel uncomfortable showing off their arms are those that cut from the elbow going down.
Avoid tops and dresses that cling to your arms, especially the upper arms which you are more conscious about.
Wear clothes that draw attention to the lower half of your body part.
However, this also depends on your body type. 
As I conclude, remember that most of the time you are always your biggest critic!
Most of the time you will find that no one ever notices your arms. Additionally, your arms may not be as fat as you think!
Always try to focus on the part of the body you like most. It will help boost your confidence.