Last Updated on March 7, 2023 by Morah Rose
When shopping for men's swimwear, your choice will mostly depend on your specific needs.
However, it can be hard to find the swimwear that will look good on you if you really don't know what to look for, or avoid when buying one.
That's because different men have different body types and needs. Men's swimwear is also not made equally.
If you are looking to find the right swimwear that will make you feel confident and good about yourself, you will find the tips below very helpful.
Related:
Ladies Swimwear Guide: Best Bikinis For Different Body Types.
How To Know Your Swimsuit Size (Shopping Tips With Pictures).
Tips to help you look good at the beach
The following tips will help you find the right swimwear to complement your look at the beach.
1. Focus on swimwear that complements your body type
We all come in different shapes and sizes. Therefore, what looks great on you might not look good on another person.
How to know the right swimwear
These two factors will help you determine the right swimwear for your body:
These factors are important because they help balance your natural proportions.
Therefore, your swimwear will not end up making you look too tall or short, too big or skinny, and so on.
How your height affects your choice of swimwear
If you do not factor in your height when picking swimwear, this will affect how you look in it.
Men's height can be put into three categories:
Taller men.
Regular/average-height men.
Shorter men.
The table below shows the best men's swimwear depending on your height:
Height
Best men's swimwear
Taller men
1). Wear long trunks that are closer to the top of the knee but not past the knee cap. 

That's because they make your body look more naturally proportioned and not too tall.

NOTE: Wearing shorter trunks makes you look taller.

2). Avoid wearing speedo because they make you look boyish, of course, if that's not the look you want to achieve from the swimwear.

3). Avoid wearing trunks that have verticle lines/stripes. They make you look taller
Regular/average-height
You basically have many options to choose from.

You can wear the long boardshorts (but not past the knee cap, for a stylish look). You can also wear speedos and so many more.
Shorter men
1). Avoid longer board shorts that are closer to the knee cap.

That's because they will make you look shorter.

2). I recommend wearing shorter trunks that are not too close to your knee top because they do a great job of creating a visual illusion of long legs.

3). Avoid trunks with verticle lines/stripes if you are short and thin because they will make you look thinner. Unless that's the look you want to achieve.
See also: When Are Shorts Too Short For Guys? (Short Length & Fit Guide).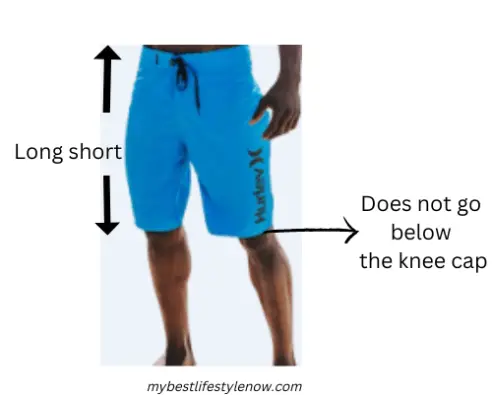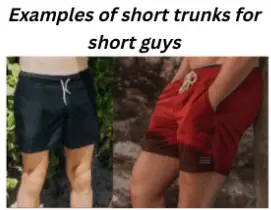 You also like:
How To Dress Like An Italian Man In Summer.
How To Get Rid Of Love Handles.
How your body affects the choice of your swimwear
Your body type affects the choice of your swimwear in one way or another.
However, you might be skinny and want to look more masculine, or bigger built and want to look slimmer.
The table below has some of the best men's swimwear styling tips in this case:
Build Type
Best swimwear for your needs
Skinny men who want to look more masculine
Wear a horizontal line/striped swim trunk. They make you look more masculine.
Bigger-built men who want to look slimmer
Wear trunks with darker colors, and if you prefer those with patterns, go for those that have small micropatterns.

You can also wear vertical strip trunks to help you look slimmer.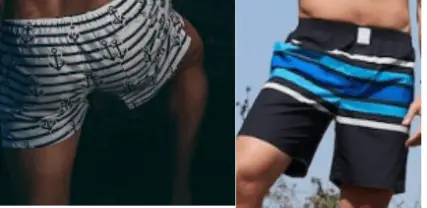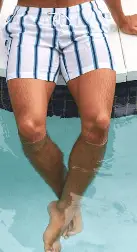 Swimwear tips to keep in mind:
Don't wear trunks that go lower than your kneecap, like those big baggy board/basketball shorts.
That's because they give you odd body proportions and don't make you look stylish or sexy.
I recommend picking a trunk that will expose a little more thigh, something like 2 inches above your knee like the ones in the above pictures.
Once you get used to these shorts, you will realize how comfortable they are compared to those big shorts that go past your knees.
3. Wear swimwear that fits you right 
To look good at the beach, I'd recommend you avoid too baggy or too tight of swimwear. 
You may think too baggy swimwear helps hide your body insecurities, but it really doesn't. In fact, it makes you look floppy and not stylish at all.
The same goes for very tight swimwear. They only end up accentuating your flaws.
Not everyone out there has a 6 pack body. However, what makes you look good and more stylish in your swimwear is how well it fits you.
See also:
How To Make Your Cologne Smell Stronger.
Best Men's Fragrance That Gets The Most Compliments.
4. Pick the right color
When it comes to color choice, there are certain colors that you will never go wrong with when buying your swimwear.  
For instance, if you want to play safe, I'd recommend going with blue, black, and green colors, and avoiding light-colored swimwear such as yellow, white, and so on.
Light colors, though good-looking, may show through what's underneath and also tend to get dirty quite fast. This is the last thing anyone would want if they are looking to look good at the beach.
However, if you like a bolder and more stylish look when at the beach or wherever you are going, I'd recommend you go for swimwear with bold, fun, and playful patterns that make you look stylish.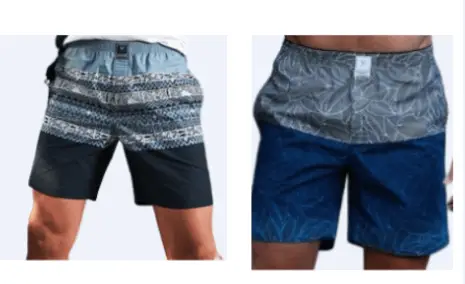 NOTE:
If you choose to go with trunks that have bold patterns, I recommend you wear them with a plain top that has no patterns.

The same goes for a top with patterns (like Hawaiian shirts). Wear it with plain shorts.
See also: 11 Things To Consider When Buying Clothes.
5. Check the swimwear material before buying
The material type of your swimwear will affect your comfort, looks and so much more. I recommend trying out different materials to see what works well for you.
For example, polyester is usually inexpensive but does not last long. Nylon swimwear on the other hand will cost you more but lasts longer than polyester.
Additionally, blends of different materials, such as nylon and cotton feel good on the skin because of the cotton and tend to dry quickly because of the nylon.
6. Think about your visual intention
It is important to know the impression you are looking to make with a particular swimwear.
For instance, if are you looking for the best swimwear for a pool party, speedos may not be a good choice, especially if you are in the US. Unless you want to get people talking.
Trunks are usually great most of the time, no matter if you are going to the lake, beach, or pool party. They just suit almost all kinds of occasions.
7. Don't buy swimwear with huge logos or brand names
If you thought swimwear with huge logos or brand names make you look cool or expensive, well, not these days.
What it does is give a different impression about you, and not a stylish look.
8. Wear sunscreen
Even with the right swimwear, your skin still needs to look good.
I can't help but overemphasize the importance of wearing good sunscreen when you are out in the hot summer sun.
9. Work out, drink a lot of water, and eat right
If you want to look your best, it's never too late to create time for a good fitness routine. 
Losing that extra fat makes you look and feel more confident than when you have more weight and not taking any action.
Always aspire to look and feel good about yourself by taking action!
10. Don't stuff things in the pockets
Staffing things that make your pockets pop out will definitely not give you a good look.
11. Rinse your swimwear after swimming
Rinsing will make it last longer and prevent stains.
Read also: Read This Before Buying A Cheap Suit (Buying A Suit On A Budget).
Final Word
Choose the swimwear that works well with you, is good for your body type, and makes you comfortable.