Last Updated on May 31, 2023 by Morah Rose
Struggling to find the right swimsuit size? 
Well, this article will help you figure out the best swimsuit size for your body so you no longer have to try out many swimsuits in an effort to find one that fits you well.
Related:
Ladies Swimwear Guide: Best Bikinis For Different Body Types.
Men's Swimwear Guide: How To Look Good At The Beach For Guys.
Why is it hard to find the right swimsuit size?
First of all, there are so many brands in the market and each tends to have a different size chart. This makes it hard for many people to figure out the right size that will fit them.
Additionally, there are different styles of swimsuits, and this tends to overcomplicate things even more.
How to determine suitable bikini sizing
You need to measure your bust, hips, waist, and torso when wearing skin-tight clothing and while standing upright for the best measurements. 
Pro Tip
Rely on your measurements when buying a swimsuit.
For the best measurements, be sure not to measure too tight or too loose. 
Doing your own measurements is important because you will use them when finding the right bikini/swimsuit size.
You will also be able to compare it with specific brands' swimsuit size charts when shopping online and when you ask for a size guide when you're shopping in physical stores.
However, sometimes you will find that you are in between sizes. In that case, I would recommend going for a size down and not up considering what you will be compromising.
For example, if you want a swimsuit that will not overexpose your tummy, then be sure not to size down if you notice that it is going to be tight around the waist area.
The following are the best ways for measuring your body parts to know the right bikini size on the size chart:
How to measure your torso
To measure your torso you need to pass the measuring tape between your legs and take it up over the shoulder and the fullest part of your bust as seen in the image below.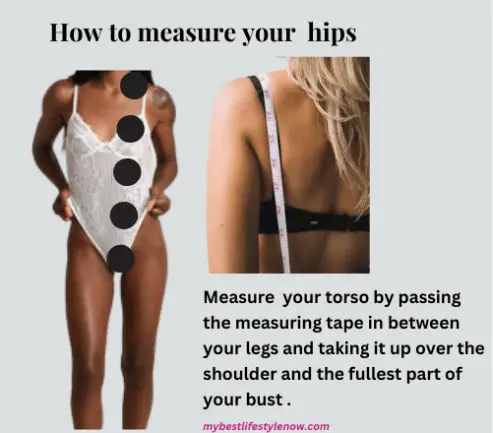 How to measure your bust
When measuring the bust, I recommend wearing a fitting bra and placing the measuring tape on the fullest part of the bust (this is part of the chest that sticks out more).
See also:
Best Way To Measure Bra Size For Sagging Breasts
Sports Bra VS Regular Bra: Which One Should You Wear?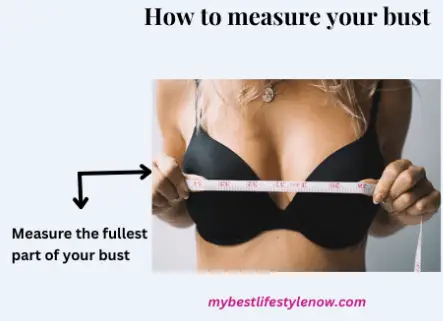 Additionally, make sure the measuring tape is well leveled up from the back. 
See also:
Hacks For Swimming On Your Period.
How To Wear A Bikini With A Tummy.
Hacks For Swimming On Your Period.
How to measure your waist
When measuring your waist, make sure to measure your natural waist which is usually underneath your rib cage. This is the narrowest part of your torso.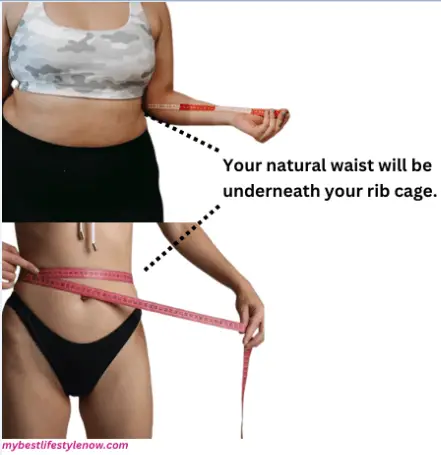 The easiest way to find your natural waist is by standing straight and hingeing on one side while taking note of the place that folds. That's your natural waist.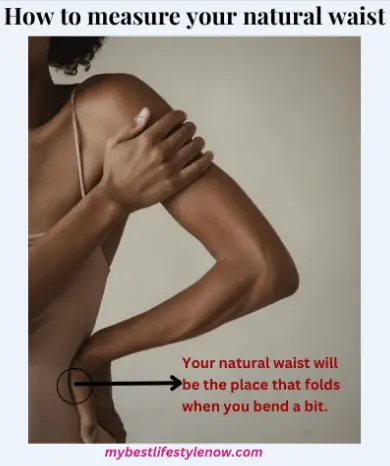 It is important to get the right measurements for your waistline, especially if you want to buy a high-waisted bikini.
How to measure your hips
To measure your hips, make sure you measure the widest part of your hips for an accurate measurement.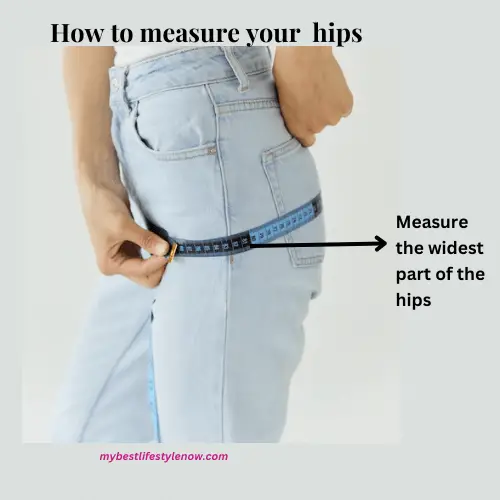 You may also:
How To Dress To Minimize A Large Bust (13 Styling Tips).
How To Choose The Right Bra Style For Different Breast Shapes (Bra Tips).
How To Dress Like An Italian Woman In Summer (Italian Style Clothing).
Tips for picking the right bikini size for your body shape
Don't rely on your dress size if you want to get the right bikini size
I'd recommend using your own measurements to identify the right bikini size.
The swimsuit top sizes will vary depending on the brand
Therefore, I recommend using your upper body measurements to find the right bikini top size.
A new swimsuit should be a little uncomfortably tight
That's because if the swimsuit feels loose when dry then in most cases it will end up being too loose when it gets wet.
But on the other hand, if it is a bit tight then it will fit you well when you are wet.
Swimsuits also tend to stretch with time, and therefore, going for one that is a bit tight will be a good idea.
However, the swimsuit should also not be too tight thus restricting your breathing.
Avoid buying bikinis that come in clothing sizes
Instead, look for bikinis that come in bra sizes because this way, it is much easier for you to find the right size.
Pick the right bikini style for your body shape
This will give you an attractive look even if you don't have a "bikini body".
Final word
I'd not recommend shopping for swimsuits online if you are not sure of the size that fits you well.
That's because most of the time it will be harder to find what will fit you right.
Also, as mentioned earlier, every brand will fit differently.
Before shopping online, I recommend first going to the store and trying out different styles so that when you go order online you will know the style of swimsuit that will fit well on your body.
Finally, if you feel like going to fit into a swimsuit in-store is a demoralizing experience, just know that there's always a perfect swimsuit fit for you.
Be confident in your own body, nobody is perfect, and don't be too hard on yourself! 
Focus on your best assets!