Last Updated on March 7, 2023 by Morah Rose
Did you know that wearing the right suit for your body type makes you look stylish and confident and helps you stand out from the crowd?
Well, that's because wearing the right suit helps flatter your body. Additionally, it makes your strengths stand out and your weaknesses go unnoticed.
Note: The main aim of this article is to help you find suits that make your body look more proportionate when worn according to the type of body you have.
Men have different shapes and sizes. Therefore, we are going to be discussing some of the most common men's body types and the best suits for each one of them in this article.
Below is a summary of common men's body types:
Body Type 
Description
1.
Rectangular body type
These men have almost the same measurements of their shoulder width and hips. 

You can either be a wider rectangular shape or a slimmer rectangular shape man.
2.
Triangular body type men 
These men have wider hips than shoulders. 
Most of these men also tend to have slimmer chests. 
3.
Inverted triangle body shape
These are men who have shoulders that are broader than their lower body parts. 
4.
X-frame body type
This body type is most common in men who often work out.

These are the more masculine men who tend to have broader shoulders (larger biceps) and big thighs.

They are inverted triangle on the upper body and triangle at the bottom.
5.
Oval body shape men
Oval shape men are men with extra pounds around their midsection compared to the other parts of the body.
6.
Trapezoid body shape
Trapezoid body shape men are somewhere between an inverted triangle and a rectangle shape. 

Most of them have wide shoulders and slightly slimmer hips.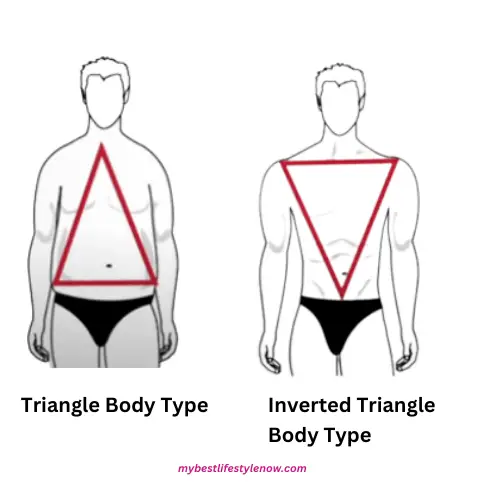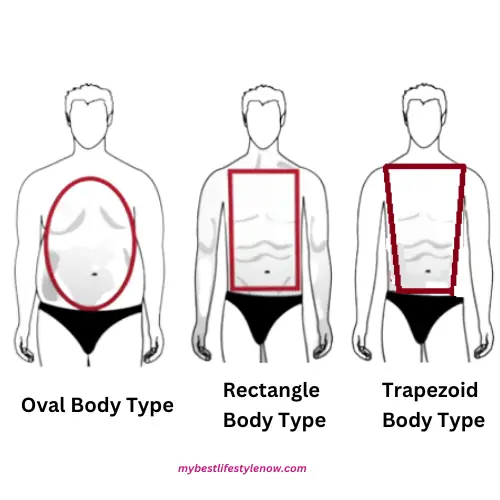 See also: How To Measure A Suit Size (Body & Garment Measurements).
Is it possible to have a mixed body type?
Yes, it is possible for some men to have a mixed body type. 
The best suit for a rectangular body type man
It depends on a personal preference. That's because some rectangular body-type men will want suits that create an illusion of a broader shoulder while others just want to look more proportional.
So, for rectangular body type men who prefer an illusion of broader shoulders, the best suit for them would be one that has some extra material on the shoulders (shoulder pads). This helps give an illusion of broader shoulders.
On the other hand, rectangular body type men who are not concerned about how broad their shoulder looks in a suit should go for a suit that is consistent from the top to bottom.
A good example of consistency from top to bottom is when the suit is wider at the top (wider lapel) and then worn with wider pants.
If you decide to go with a suit that has a slimmer lapel, make sure your pants are also cut trimmer.
How to choose a suit for wide rectangular body-type men
Go for a slimmer lapel in order for the suit to look more proportionate.
If you have some weight around your midsection, a waistcoat would be great if you don't want to draw attention to that area.
I would also recommend going for suits that have bolder patterns such as wider stripes, windowpanes e.t.c because they are quite flattering on these body types.
How to choose a suit for slim rectangular body type men
Slim rectangular men can go with a wide lapel to give an illusion of a broader shoulder.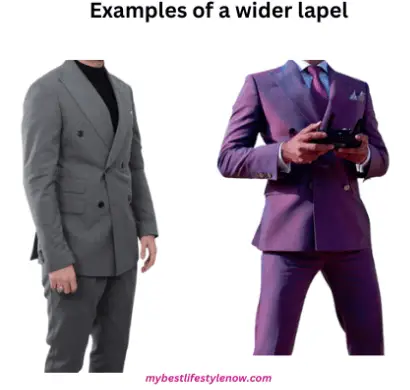 Choose of suit for short, regular, and tall rectangular body-types
Short and wide rectangular shape men should avoid wearing skinny suits. That's because it may end up making them look wider. Of course, if that's not the look you want.
Regular-height rectangular shape men will look great in suits that have a buttoning point around their natural waist (belly button). That's because it makes them look more proportionate.
Shorter rectangular men who want to look taller should go for smaller pattern suits because they tend to make them look taller and more proportional with smaller patterns than with bigger patterns.
Additionally, shorter men who want to look taller should have the button point a little bit higher from the natural waist (belly button) in order to make them look taller.
Tall rectangular guys should go with bigger patterns suits.
See also: Best Jeans/Denim For Your Body Type (Men's Guide).
The best suit for triangular body type men 
If you are a triangle body shape, my number one recommendation is:
Avoiding suits that will make your hips look wider.
Focus on balancing the upper body and the lower body parts to look more proportional.
How to choose a suit for triangular body type men
The best pants for a triangle shape man are those that sit on their natural waist. 
That means they should avoid skinny pants that sit low on their hips because they tend to emphasize their hips more.
Triangle shape men with bigger thighs need to go for pants with pleats.
That's because they provide more room you're when walking or sitting down.
Triangle shape men with slimmer chests who want to look more muscular (broader shoulders) in a suit should get suits with shoulder blades and extra fabric over the chest for some fullness across the chest.
The same applies to men with a triangle body type and slopped shoulders. A little bit of shoulder padding on the jacket will give them a better look. 
Additionally, if one shoulder is lower than the other, you can add a different amount of padding and make it level up. However, I highly recommend taking it to a good tailor who can cut it in a way that doesn't form wrinkles.
Avoid a low button that is close to your hips on the jacket. That's because it tends to emphasize the width of the hips even more.
Wider lapels, especially peak lapel suits will flatter a triangle body type because they create an illusion of a wider look (broader chest) on the upper part of the body. This can be around 3.7 to 4 inches of lapels.
Overcoats such as trench coats with epaulets will flatter a triangle body shape man because it builds up their upper body part, thus driving attention away from their lower body part.
Best suit for inverted triangular and X-frame body type
Most inverted triangular-shaped and X-frame men have a hard time finding jackets that properly fit them around their shoulders, especially when buying a budget suit or off-the-rack suit. 
That's because most of the time their shoulders never seem to align with any jacket when buying off-the-rack suits. Other times, most men with this body type tend to go with the more expensive brands that will offer more variety of jackets and ones that will fit their shoulders appropriately.
See also:
How A Suit Should Fit (Why You Look Bad In A Suit).
Best Places To Find Cheap/Affordable Men's Suits.
Read This Before Buying A Cheap Suit (Buying A Suit On A Budget).
How to choose a suit for inverted triangle body type men
If you are an inverted triangle and don't want to exaggerate the broadness of your shoulders maybe because they make you look ridiculous/comical, below is what I'd recommend when choosing a suit:
Go for soft shoulder jackets and avoid those with regular padded shoulders unless you have sloped shoulders.
If you are an inverted body type with sloped shoulders then I recommend you go for a jacket that has minimal padding.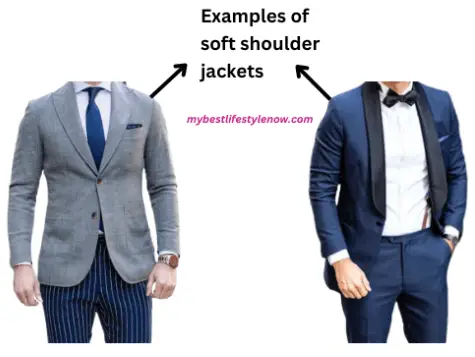 Do not go for an overly slim-fitting suit or skinny pants.
Instead, I recommend pants that are cut a little fuller like straight-leg pants. This will make your overall look more proportional. 
Always fit the shoulders and chest first.
If this area doesn't fit well, I highly recommend leaving the jacket because shoulder alteration can be expensive and at times impossible.
However, if it fits well on the shoulders but needs some alterations on other areas like the waist, then I recommend taking it.
Made-to-measure jackets would work well for you if you're finding it hard to get a well-fitting jacket.
I recommend going for slim peak lapels (something like 3¼ inches) notched lapels. Avoid wide-peak lapel jackets.
NOTE;
Larger biceps and broad shoulders will fit differently.
The best suit for oval body-shape men
To look great and stylish in a suit if you are an oval shape you should focus on driving attention away from the midsection.
How to choose a suit for oval body type men
Go for vertical stripes to look slimmer and avoid horizontal stripes suit. 
That's because vertical lines in clothes tend to provide a slimming effect.
Wear a vest and jacket to help slim down the midsection. 
Avoid wearing a too-tight jacket. 
Tie your tie a little bit shorter and ensure that it does not go beyond the belly or the waistband. 
Wearing a tie too long will make you look big and highlight the mid-section even more.
If you're wearing a vest, I recommend wearing the tie under the vest  
Wear dark colored vest and jacket to give your mid-section a slimming effect.
Wearing dark colors provide a slimming effect as opposed to brighter colors.
Avoid double-breasted garments because they tend to enhance your midsection and make you look wider.
Try suspenders with pants that are high-waisted as they give you a long leg line and thus make you look slimmer.
Pleated pants will flatter your look and also make you feel comfortable in pants because it gives you enough room.
The best suit for a trapezoid body shape
Trapezoid body shape men need to avoid:
Wearing extremely wide jacket suits and pants.
Very wide lapels.
Very skinny pants.
FAQs
What's the best suit for men with a bigger bum/butt or larger guys?
Suits with two vents for the jacket, pleats, and full break on the pants are some of the best options.
Vents
Men with bigger bums normally look great and are more comfortable in a jacket that has vents.
This can be one or two vents, depending on personal preferences. However, you should also note that one vent could end up drawing attention to that area.
Pleated pants 
I highly recommend trying out different pleated pants to see which works well on your body. That's because pleated pants will be more comfortable, provide more space and look great on most men with this body type.
However, you should also note that pleated pants will look great with a proper rise and taper.
Full break pants
A full break will look great on larger guys because it goes well with wider trousers.
What's the best suit for slim guys?
Slim guys should go with pants that have no break or slight break. 
NOTE: 
No break simply means there's absolutely no break where the pant leg meets the shoes.

On the other hand, a slight break means that the bottom of the pant break is just going to be touching the top of your shoes and have a very slight crease.

A medium break is generally great for people of any shape and size.