Last Updated on May 31, 2023 by Morah Rose
In case you're wondering how to correctly measure the bra size of sagging breasts, this article has got you covered!
The article will also be discussing ways to find the right bra size for sagging breasts.
But first, it is important to know that there are different sizes and types of breasts. For instance, if you have sagging breasts that means you have a pendulous breast shape.
Pendulous breasts are the type of breasts that lack density on the top and the breast tissues hang down lower.
Related: Sports Bra VS Regular Bra: Which One Should You Wear?
How to measure sagging breasts (pendulous breasts)
There are three ways to measure your breast size. However, for a more accurate measurement, I'd recommend the leaning forward method especially if you have sagging breasts.
Other ways to measure include standing and laying down methods. But these two methods are not the best because not everyone's breasts project forward while in these positions. 
For instance, ladies who have sagging breasts tend to have a challenge measuring their busts when standing up because of the breasts' shape.
Therefore, this will definitely affect how accurate your measurements will be, especially when measuring the fullest part of your breast while standing up because the breasts fall pretty low down.
The following are the 2 ways to measure pendulous breasts while standing:
NOTE:
Bra sizes consist of the cup size and band size measurement.
See also: How To Dress To Minimize A Large Bust (13 Styling Tips).
How to measure the breast size when wearing a bra
Step 1: Put on your best fitting non-padded underwired bra
I recommend an underwired bra because it supports the sagging breast and also brings them up to a good position.
Additionally, a non-padded bra is recommended if you want to get a more accurate measurement.   
This will also make the measurement process a lot simpler.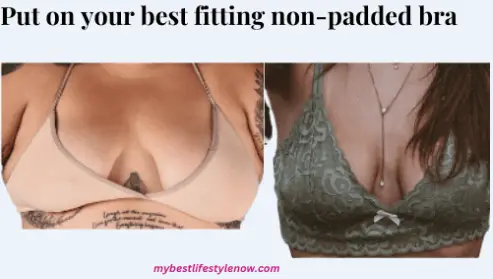 Step 2: Measure across the rib cage. 
That is under your bust.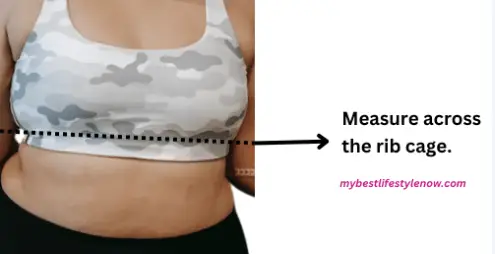 Step 3: Measure the fullest part of your bust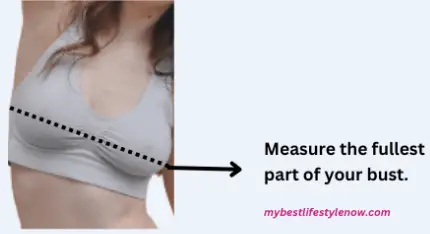 Step 4: Get the difference between the two measurements.
Cup size = Bust size – Band size
Pro tip: 
How the non-padded fits you will determine how accurate your measurements will be.
You may also like:
How To Know Your Swimsuit Size (Shopping Tips With Pictures).
Ladies Swimwear Guide: Best Bikinis For Different Body Types.
How to measure sagging breast size without wearing a bra
Measuring your breast size without wearing a bra is great for ladies who don't have a non-padded or good-fitting bra (i.e a bra that is way too big or too tight).
Follow the steps below to measure your bra size when not wearing a bra
Step 1: Stand up straight then bend forward in a way that the breast can kind of dangle at the front.
This will help make the breast tissues move forward to allow you to get the measuring tape underneath.
Note: To get the best measurements, you will need to make sure you get underneath the breasts for a good and accurate rib cage measurement.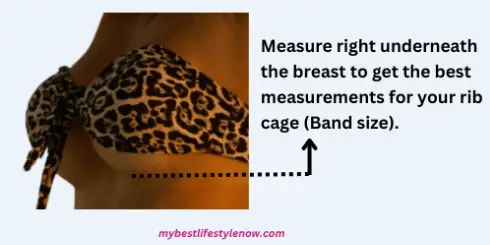 Step 2: Once the measuring tape (or whatever you will be using) is underneath the breasts, stand up straight while the tape measure remains under the breast tissues. 
Note down the measurement around the rib cage.
Stand up straight and bend forward.
Step 4: Measure around the fullest part of the breast without standing up (when bent forward). 
This is recommended because if you have sagging boobs, standing up will not give you accurate measurements because the breast will sag back down.
See also:
11 Things To Consider When Buying Clothes.
How To Wear A Bikini With A Tummy.
Other tips for finding the best breast size for a pendulous breast shape
Don't over-rely on one method of breast size measurement
I'd recommend trying the other two measuring methods (standing and laying down methods) to compare your results.
This helps take care of any inaccuracies when measuring your bra size.
If possible measure your breast with and without a bra.
I'd highly recommend this because sometimes you may get an inaccurate breast size because some well-fitting unlined bras measure differently compared to naked breasts.
This means that by comparing the two measurements you're able to figure out the best size for your bra.
Find the right bra for sagging breasts
For comfort and better support of your breast, I'd highly recommend wearing the right bra for your breast type. 
If you would like more information on this be sure to read our article on the best bra for different breast shapes.
The article will help you know the correct fitting and comfortable bra for you.
Final Word
Getting a good bra size is great for comfort and appearance. That's because the main goal for a bra should be to offer good support, lift, and shape for your breast irrespective of what bra you wear.
I hope this article helps you find a decent-fitting bra for your sagging breasts.